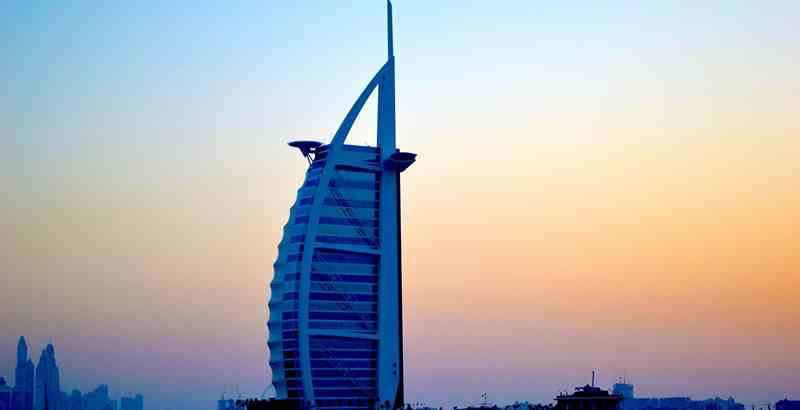 Visit the Burj Al Arab Jumeirah Hotel
Shaped like a billowing sail, Dubai's world-famous Burj Al Arab Jumeirah Hotel is located in Jumeirah Street, overlooking the Arabian Gulf. Built on a man-made, triangular island, the hotel is arguably the world's most luxurious tourist accommodation.
Guests can enjoy an arrival in a Rolls-Royce and a private 24-hour butler service. Among the many amenities are a vast swimming pool, numerous fine-dining restaurants and lounges and a private beach. It is a hotel built for kings and queens, and one of Dubai's most iconic landmarks.
The Burj Al Arab Jumeirah Hotel opened in 1999, and rises 321 meters above sea level, offering guests stunning panoramic views over the Arabian Gulf from its upper floors.
Lush suites with golden interiors are just one of the many reasons why the hotel is often named as one of the world's five most exclusive, luxurious hotels. It simply has to be seen to be believed. Various special offers make a visit doubly interesting - for example, guests can sample the amazing cuisine award-winning chef Nathan Outlaw presents and enjoy outdoor dining on the hotel's renown 10,000-square meter terrace as part of a special package.
Tel: +971 (0) 4 301 7777 for further information.
UNBEATABLE VALUE CAR RENTAL

FREE
Amendments,
FREE
Cancellations,
NO
card fees!

airport_shuttle Need Airport Transfers?
Useful Information about Dubai Airport